Chiropractic Care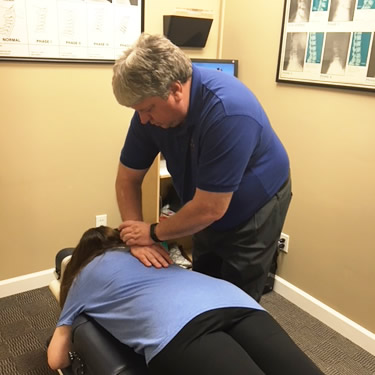 Chiropractic care is a natural alternative to traditional health care. Rather than rely on medication to relieve symptoms, we evaluate the whole body to determine the very source of pain and discomfort. Here at Massey Family Chiropractic, we believe in the power of a healthy central nervous system. Our practice is committed to relieving unwanted nerve pressure to encourage optimal bodily function.
Our Preferred Techniques
We are a hands-on, manual adjusting facility. Along with the Diversified Technique and Thompson Technique, we also perform side-posture and extremity adjustments as needed. For certain chiropractic adjustments, we use a small, handheld tool called the Activator Adjusting Instrument to make distinct corrections.
Learn more about our preferred techniques below.
Diversified Technique – One of the most common adjusting methods, this manual technique involves a high velocity, low-amplitude thrust to encourage correction.
Thompson Technique – This technique relies on a full spinal assessment and drop table to correct subluxations. As the drop pieces take the brunt of the force, this adjustment is known for being extremely gentle.
Activator Method® – Utilizing a tool called the Activator Adjusting Instrument to deliver a direct impulse of force to the spine, this method of care effectively restores motion to specific spinal vertebra or joints.
Additional Therapies
In addition to chiropractic adjustments, Massey Family Chiropractic offers a variety of holistic therapies to promote overall well-being. These therapies include:
Rehabilitative exercises
Kinesiology Taping
Intersegmental traction
Cervical traction
Lumbar traction
Inversion therapy
Therapeutic ultrasound
Electrical stimulation
Our practice strives to help patients feel as comfortable as possible while under our care. For this reason, Dr. Massey gladly provides detailed explanations throughout each and every appointment.
With us – you can be confident that your questions and concerns will be addressed as they arise!
We Can Help
Back pain, neck pain, sciatica, and headaches alike have a place in our practice. No matter your condition – we can help!
Contact our practice to begin your journey to better health! We look forward to getting to know you and helping you live a happier, healthier life.
CONTACT US »
---
Chiropractic Care Greensboro | (336) 897-2026