Pregnancy and Pediatric Chiropractic in Greensboro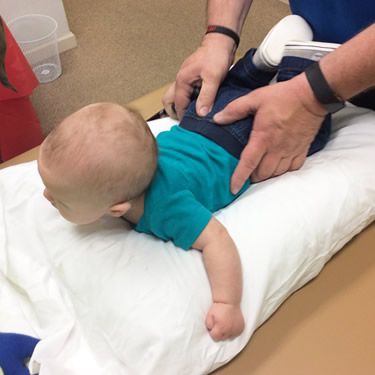 Along with general chiropractic care, Massey Family Chiropractic has a heart for expectant mothers and their unborn infants as well as children of varying ages and activity levels.
Dr. Massey is certified in the Webster Technique, an adjustment method designed to encourage the health of both mother and baby throughout pregnancy, as well as a past member of the International Chiropractic Pediatric Association (ICPA). He has the knowledge and expertise to provide your growing family with unparalleled natural health care.
Get the prenatal and pediatric care your family deserves with Dr. Massey on your side!
Is Chiropractic Care During Pregnancy Safe?
Chiropractic care is absolutely safe for you and your unborn baby. Where the mother is concerned, prenatal chiropractic care goes beyond simply resolving low back or hip pain. We want to help to reduce any interference within the nervous system that is preventing proper alignment, balance, and desired comfort.
The health of the mother plays a significant role in the well-being of infants in utero. If the mother's body is aligned, balanced, and relaxed, including correct pelvic positioning, the baby is able to pass through the birth canal much more easily – ultimately, allowing for a safer, more comfortable labor and delivery.
Rest assured, pregnancy pillows are available for your comfort during your adjustment, and we do not perform electrical stimulation or ultrasound on pregnant patients.
Common Benefits of Pediatric Chiropractic Care
Children of all ages can benefit from pediatric chiropractic care. Among colic and ear infections, chiropractic care has also been known to decrease the effects of the following common ailments:
Weakened immune system
Constipation
Bed wetting
Scoliosis
Behavioral issues
Developmental problems
If your child is suffering from one of the complications mentioned above or an unlisted symptom, we are here to help.
Oftentimes, nerve interference is enough to confuse your child's body and drive them away from utmost health. Pediatric adjustments are designed to relieve the simple, unwelcome pressure that may be causing severe consequences.
A Gentle Approach
Prenatal and pediatric adjustments are incredibly gentle. During prenatal adjustments, the mother's body remains neutral, never requiring any twisting of the abdomen. Our job is not to directly move or change the position of infant, but to help establish a safe environment inside the mother that is conducive to appropriate development and positioning.
Similarly, pediatric adjustments are often made with very little pressure. For babies, no more pressure is applied than one would place on a ripe tomato. Growing children are also adjusted with the most careful, tender touch.
Your Family's Health Awaits!
Are you ready to take advantage of chiropractic care for the entire family? Massey Family Chiropractic looks forward to meeting your family and helping them achieve greater health!
Do not hesitate to contact our practice to learn more and make an appointment with us. After all – yours and your child's health awaits!
CONTACT US »
---
Pregnancy and Pediatric Chiropractor Greensboro NC | (336) 897-2026